the night before...
So I checked in at The Yarn Harlot's and it seems we number in the 3000s. I find it to be pretty weird that all over the world 3000 or more knitters will all be casting on as the opening ceremonies begin. It's also very comforting, to know that I'm not alone in my fascination with this ancient handicraft. As The Yarn Harlot said in her book.. we take a piece of string and two sticks and make fabric (I'm paraphrasing here as the book is upstairs.).
I did finish the baby clothes, used some stamps to personalise the tissue paper I wrapped them in, packed them up and will post them within the next week. They are sooo cute and dinky, but if anyone says they are making baby clothes because they are less work hit them for me. Smaller needles, thinner yarn and just as many seams to sew up. I'm squeezing in lots of love with these gifts this is a baby who is desperately awaited. Cross everything that she makes it...
Found the fourth trainer sock but haven't blocked them yet, will do that tomorrow. Have completed first sock of second pair for me. Sorry no pics of those yet am cracking on with the second sock. I love the Opal self patterning yarn, it's amazing watching the pattern grow on the needles and all I do is knit.
Finally resorted to drugs to get some sleep, a certain well known cough mixture works very well at knocking me out and I feel a lot better. My plan for the weekend is knitting, reading and resting...with a few good walks with the dog.
George has been off school till today, same fluey bug that Amy had. Wouldn't mind but they are off school next week for half term. At least they won't be ill for that. Amy is off to France with the school for five days and very excited. George and I are going to go visit Simon and Dan in Cheltenham and I will drag George down to Bath to see where I lived and went to college.
Here is my work station for the Olympics... it's got a good view of the TV, and you'll note that the ironing board is all set up ready for steaming before seaming.
Here's my three cardigans that all need to be finished by the closing ceremonies if I'm to get a gold medal.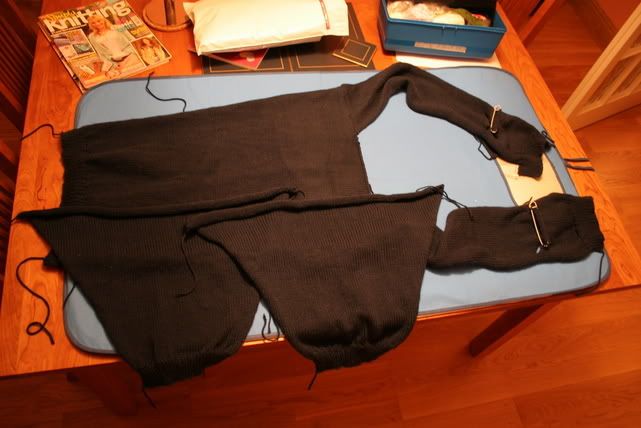 Cardigan 1 - Debbie Bliss Cashmerino Aran - Dark Navy Blue.
This is an old pattern I knitted many years ago. The pattern was from the Essentials Magazine. These days Essentials doesn't do knitting.
Progress so far... all parts knitted. Shoulder seams have been seamed.
Left to do... button border, buttonhole border, pocket tops, sew all the seams.
Cardigan 2 - Sirdar Denim Sport Aran - Cream with flecks
From Sirdar The Denim Book of Aran Knits - Design D
Progress so far... back, two fronts, one sleeve all complete.
Left to do... sleeve, neckband, make up and fit zip (Ulp!)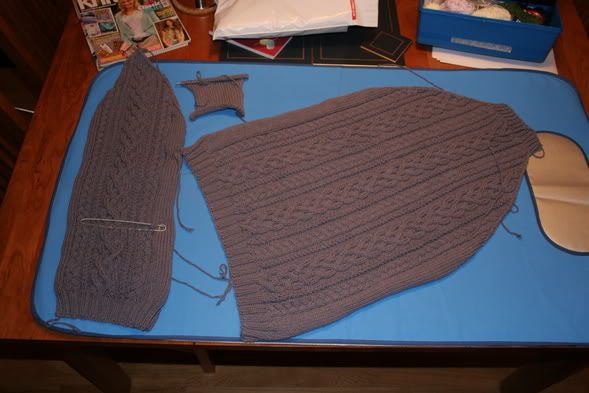 Cardigan 3 - Patons Washed Haze Aran - Denim Blue
From Sirdar The Denim Book of Aran
Knits - Design E
Progress so far... back, one side, one pocket lining.
Left to do... one front, one pocket lining, two sleeves, two borders, pocket borders and sew up all seams.
I think I might be wishfully thinking I can get all this done... but I've invested a great deal of time and money so far and still have nothing to wear. This is a great way to focus me back to the task. I should have three really yummy cardis by the closing ceremonies.
To those who have no interest in knitting... I'll try to not be too knitterly for the whole Olympics.